Automation Associate | 5 – 8 Yrs | Gurgaon
Experienced
Full Time
Experience: 5 - 8 Years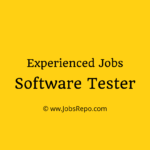 Website S&P Global
Job Description:
As an Automation Expert you will be empowered to drive a portfolio of automation projects that will deliver business results. You will be working for the Market Intelligence division but empowered to work across the 4 divisions at S&P as a part of the Data Transformation team, and will be using RPA and other automation tools to build and deliver end to end automation solutions.
Job Roles and Responsibilities:
Get a ringside view and be a part of a massive digital transformation with the potential to learn and work on the latest technologies
Work independently on end to end automation projects by owning the entire project lifecycle including stakeholder management
Help democratize low code automation tools and contribute towards creating a truly digital workplace
Job Requirements:
A person who is resourceful, adaptable, creative, and detailed/results-oriented with high energy and a positive attitude.
Preferred Skills:
5 – 8 years of experience with 2 – 5 years in the RPA/Automation space
Should be UI Path Advanced Developer Certified
Developer Certification on Blue Prism and/or Automation Anywhere will be an advantage
Proficiency in development languages used by leading RPA vendors (.NET/VB, VBA/PowerShell, or C#)
Proficiency in python coding to augment automation projects
Experience in data analytics to describe, diagnose, and predict business outcomes based on large data sets.
Hands-on ability to build quick prototype/visuals to assist with high level product concepts and capabilities
Experience in visualization tools such as Power BI/ Tableau
Experience in deployment and management of applications utilizing cloud-based infrastructure
Excellent presentation skills with a high degree of comfort speaking with senior executives, IT Management, and developers
A desire to work in a fast-paced and challenging work environment
Ability to work in a cross functional, multi geographic teams displaying cultural sensitivity and championing diversity & inclusion
When you apply, don't forget to mention that you found this Job Post on JobsRepo.com