Associate Test Engineer | USA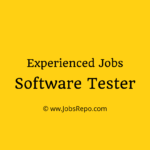 Website Renesas
Job Description:
Develops product test solutions for high-performance analog integrated circuits. This includes developing test methodologies, defining test schematic, layout and hardware, test program development, debug, correlation and transfer to manufacturing site. Test solutions are developed in C++ program language using automated test equipment. Advises on "design for testability', provides test throughput enhancements, and identifies and eliminates tester limited yield issues when appropriate. Interfaces with manufacturing as required. May participate on new product development team and evaluate new test systems for future applications.
Job Requirements:
Seeking AssociateTest Engineer to work on product development on Teradyne Eagle / Flex Automated Test System. This includes developing test methodologies, defining test schematics, PCB layouts and hardware, developing and debugging test programs, correlating production test solutions to engineering measurements, and transferring production test solutions to offshore, high-volume manufacturing sites.
Test solutions to be developed Eagle 364 or Teradyne Micro/Flex system.
Knowledge of analog/digital/power devices and Visual Basic/C/C++ programming a must.
Interface with Manufacturing as required. Participation in Team and evaluation of test systems.
Strong communication and interpersonal skills.
Exercises independent judgment in methods, techniques and evaluation criteria for obtaining results.
Acts independently to determine methods and procedures on new or special assignments.
Proficient with Microsoft Office Software (Word, Excel, PowerPoint, Outlook).
Unix operating system knowledge and lab experience with bench top instrumentation also recommended. Statistical analysis capability.
BSEE or higher.
When you apply, don't forget to mention that you found this Job Post on JobsRepo.com