Associate Test Engineer | 3 Yrs | USA
Experienced
Full Time
Experience: 3 Years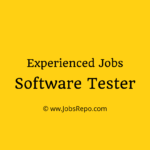 Website KLA
Job Roles and Responsibilities:
Perform set-up, calibration, testing and troubleshooting of components, instruments and opto-mechanical assemblies.
Resolve and may develop test specifications, methods and procedures from blueprints, drawings and diagrams.
Test and solve assemblies and/or final systems, and complete rework on assemblies and/or systems as a result of testing.
Prepare technical reports summarizing findings and recommending solutions to technical problems. May assist in the selection and set-up of niche test equipment.
Work on assignments that are moderately difficult, requiring judgment in resolving issues or in making recommendations.
Perform ongoing daily work with minimal instruction, and with general instructions on newly introduced assignments.
May provide work assignment direction and technical training to peers.
Job Requirements:
Minimum 2 years or relevant mechanical or opto-mechanical experience in a manufacturing environment. Preferably within the semiconductor industry.
Proficient with hand tools; Allen wrench, oscilloscope, DMMs, etc..
Previous experience interpreting blueprints and procedures is required.
Will require overtime and some weekends based on workflow.
Technical School or work experience of 3 years
When you apply, don't forget to mention that you found this Job Post on JobsRepo.com