Application Penetration Tester | 5 – 8 Yrs | Pune
Experienced
Full Time
Experience: 5 - 8 Years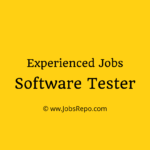 Job Description:
The Info Security Tech Sr Analyst is an intermediate level position responsible for leading efforts to prevent, monitor and respond to information/data breaches and cyber-attacks. The overall objective of this role is to ensure the execution of Information Security directives and activities in alignment with Citi's data security policy.
Job Roles and Responsibilities:
Assist Security Incident Response Teams with incident investigations and aid in technical risk assessments
Coordinate with system development and infrastructure units to identify Information Security (IS) risks and the appropriate controls for development, day-to-day operation, and emerging technologies
Perform regular assessments based on changes in the threat landscape
Monitor vulnerability assessments and ethical hacks, ensuring that issues are addressed for the applications that they support
Provide information security support with related activities during systems development (e.g. authentication, encryption)
Identify and develop new and improved technical procedures and process control manuals
Identify significant IS threats and vulnerabilities
Assume informal/formal mentorship role within teams and assist with the coaching and training of new team members
Appropriately assess risk when business decisions are made, demonstrating particular consideration for the firm's reputation and safeguarding Citigroup, its clients and assets, by driving compliance with applicable laws, rules and regulations, adhering to Policy, applying sound ethical judgment regarding personal behavior, conduct and business practices, and escalating, managing and reporting control issues with transparency.
Job Requirements:
5-8 years of relevant experience
Consistently demonstrates clear and concise written and verbal communication
Proven influencing and relationship management skills
Proven analytical skills
Bachelor's degree/University degree or equivalent experience
When you apply, don't forget to mention that you found this Job Post on JobsRepo.com