Angular / Python Software Engineer | 2+ Yrs | USA
Experienced
Full Time
Experience: 2+ Years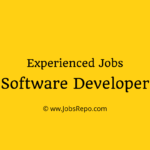 Website Wells Fargo
Job Description:
The Financial Systems and Technology group (FST) within Enterprise Information Technology (EIT) is seeking a Software Engineer to join our Asset and Liability Technology team at Wells Fargo Corporate Treasury. In this role you will be working on a new application called MOSART that will enable the automation of over 600 Financial Models across Wells Fargo. As a UI Engineer Associate you will be expected to participate in the application design, development, testing and delivery of this new platform to our business partners to ensure we have a cutting edge UI/UX experience. You will be expected work as part of a given Agile team or roughly 7-10 developers all working on the MOSART platform. This is an exciting opportunity for someone who has the drive to learn and grow at Wells Fargo in a fast paced development team.
Job Roles and Responsibilities:
Work as a UI/UX Developer in building our MOSART front end leveraging Angular/Typescript technologies
Work on Python modules and REST Services for Middle Tier processing
Participate in the design, development, integration, testing, deployment and support of technology solutions for complex and challenging business requirements.
Understand Software Development Lifecycle process, quality, security and compliance requirements.
Support implementation of moderate to complex projects. Develop skills in a specific domain with training.
Collaborate and consult with peers, colleagues and managers to resolve issues and achieve goals.
Identify and drive new solutions to enhance the development cycle to increase development productivity.
Understand compliance and risk management requirements for supported area.
Job Requirements:
2+ years of Software Engineering experience, or equivalent demonstrated through one or a combination of the following: work experience, training, military experience, education
1+ years' Experience in Web Development or UI/UX development
1+ years' experience with Python
1+ years' experience in Agile development environment
1 + years' experience Relational Database experience
Preferred Skills:
Bachelor's Degree in Computer Science
Understanding of SDLC – Software Development Lifecycle process
Financial Services Experience
Good verbal, written, and interpersonal communication skills
Job Expectations:
Ability to work outside of regular business hours.
When you apply, don't forget to mention that you found this Job Post on JobsRepo.com